Justin wrote:
DgrayMan wrote:
Oops wrong pic!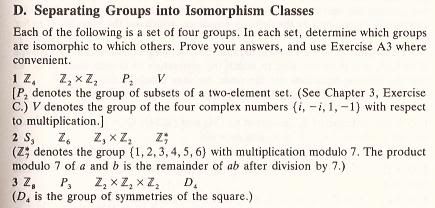 As Shadow said, nothing particularly difficult about
...it is the direct product of two prime order (cyclic) groups...that tells you a lot right there. For instance, the order of each element is the least common multiple of the orders of each "component" of the element. That implies, for instance, that this group has order 6.
The Cayley table is then easy to construct.
Since it's listed as a product, he doesn't need to worry about whether or not the original orders, and he can get order six just by multiplying the orders of the original group, it doesn't have to be cyclic for that to work.
To the op: You know the elements are (0,0), (0,1), (1,0), (1,1), (2,0), and (2,1), the table is easy, just add in components.